For this post in english see below.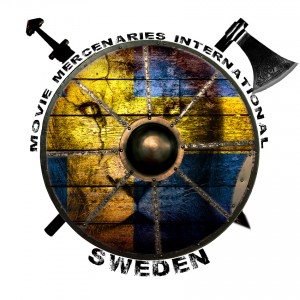 TEAM TITAN / MOVIE MERCENARIES SWEDEN
&
CLANN WALLACE / MOVIE MERCENARIES INTERNATIONAL
A tale of co-operation and teamwork that spans over a thousand years
Berättelsen hittills
Vi är Team Titan, en grupp av fyra passionerade cirkusartister och stuntmän med ett massivt intresse för historiska kampstilar. Med en resumé av över tusen utförda stuntshower för live-evenemang och framträdanden i flera filmer och TV-serier.
Sommaren 2013 reste Seoras Wallace till Sverige för att hålla en workshop i vapenhantering och kamp för filmduken. Seoras är Wallaceklanens hövding, en av filmindustrin erkänd svärdsmästare, fight director och etablerad Hollywood-producent ( Braveheart Gladiator King Arthur etc). Två av medlemmarna från Team Titan deltog i workshopen där Seoras visade stor uppskattning för våra färdigheter och bjöd omedelbart in oss att ingå i hans Elitkrigarstyrka (för filmbranschen) som är baserad i Skottland. Resten är, som man säger, historia.
Vi bjöds in till Skottland för att delta i filmningen av en EPK (Electronic Press Release) för "Bloodlust", filmad för de amerikanska producenterna av den föreslagna TV serien "Wallace" och andra planerade historiska produktioner, där i inkluderat nästa"Pirates of the Carribean". På plats talade vi också om att etablera en castingbyrå för Movie Mercenaries International i Sverige, detta för att möjliggöra för svenska skådespelare, filmteam och specialiserade artister att arbeta på nationella och internationella produktioner och evenemang och samtidigt representera Sverige som en del av det kända Movie Mercenaries International. Med namn som Mel Gibson, Russel Crowe, Liam Neeson, Sean Connery och Riddley Scott i sin klientel är MMi respekterade i filmindustrin världen över.
Vi diskuterade och enades också om att utveckla ett kulturutbytesprogram mellan Sverige och MMi- medlemmarna i Skottland, Irland, England, Wales, Frankrike, Italien och Portugal. Syftet är att återskapa grunderna av det ursprungliga Varjag/Hansan, ursprungligen uprättad i Visby, varmed vi planerar att återupprätta den gamla handelsfederationen med ett kulturellt påslag. År 1303 besökte, enligt familjelegenden, Seoras berömda förfader William Wallace(Braveheart) Hamburg, Lübeck och Visby, för att äntligen få i stånd ett skotskt medlemskap i Hansan för de viktiga handelshamnarna. Wallace blev förrådd när han återvände till Skottland och snabbt avrättad av engelsmännen innan han kunde leverera sin nyhet till det skotska folket. Nu, sjuhundra år senare kommer äntligen Seoras Wallace och hans klan, Jakkin Wiss och hans Varjag Knights, att slå slag i saken och uppfylla detta sjuhundra år gamla avtal i Visby sommaren 2014.
Historia och framtid skapas och återskapas

Skottland och Sverige har en gemensam historia som går tillbaka över tusen år. Denna spännande historia ger oss en befintlig kulturell blandning av många eror att stå på och utveckla i framtiden. Vårt mål är att föra samman våra folk i tre distinkta kultur- och handelsorganisationer; Cruathnie Varjag (Kultur), Movie Mercenaries International(Film, TV och evenemang) och Hansan(Handel). Att finna stolthet, glädje, styrka och samverkande strävan i våra gemensamma anor, skapa kreativa band och arbetsmöjligheter. Bland annat så utmynnade kombinationen av de två kulturerna till en fruktad och grym krigarkultur i västra Skottland som blev känt som det ökända Gallóglaigh (Galloglass) De skotsk/Irländska Viking-spartanerna!
Jakkin Wiss, Anton Franzon och Jimmy Hellgren från Team Titan åkte till Skottland som nyfikna och hoppfulla stuntmän. De återvände till Sverige som den officiella grenen och representanter för MMi Sverige, i släktskap med klanen Wallace i Skottland som deras sed tillåter och som Hansarepresentanterna klanen Wallace och det skotska samfundet vill skapa en handelslänk till.
MMi SVERIGE

Samarbetet mellan MMi Skottland och MMi Sverige kan bli den största nyheten på år för den svenska filmindustrin och ger våra ansträngningar och vårt kvalitetsarbete internationell erkännelse samt tillgång till Hollywood och den internationella filmindustrin. Vi arbetar för tillfället tätt samman för att skapa formeln för MMi, som kommer ha filialer i Irland, Spanien,Italien, Portugal och många andra länder.
HANDEL: Genom MMi har en professionell länk öppnat upp stora möjligheter för handel mellan våra två länder för allt från samtida varor och tjänster, till traditionella och kulturella varor, turism och utbildning, allt vilket kommer utvecklas i vårt kommande Hansaavtal.
KULTUR: De två tidigare nämna internationella överenskommelserna lämpar sig utmärkt för vårt kooperativa internationella avtal, inte bara inom vår profession, men också möjligheten att dela den rika kultur som binder samman Cruathnie Varjag eller Klan- och Vikingsamhället. Just nu för vi dialog angående att föra Scots Birlinns (långskepp) till Sverige och resor för vårt team att besöka skottländska och irländska kulturevenemang och mer.
Vi håller just nu på att etablera MMi/Sweden officiellt, till att börja med kommer vi snart hålla speciella castings och workshops inom historisk kamp och påbörja arbetet med att erbjuda våra kontaktmöjligheter till våra kollegor i filmindustrin här i Sverige. Vi kommer också att öppna våra castingböcker för ett begränsat antal skådespelare, statister, filmteam och filmtjänsteleverantörer, för att visa att det inte bara är kämpar och stuntmän MMI castar, det är också en unik och mycket viktig möjlighet för alla i Sverige som skulle vilja arbeta inom den internationella film-, tv- och evenemangsindustrin.
Med Seoras Wallace i ryggen, mannen bakom stunt i produktioner som Highlander, Braveheart, Saving Private Ryan, 300, och många därtill, finns det en rikedom av erfarenhet utan motstycke, kunskap och kontakter som är ovärdeliga inför framtiden och till det tar vi med oss vår svenska erfarenhet, styrkor och hunger.
MMi ska se till att bli en av de största specialiserade castingbyråerna i världen, med det bästa av det bästa för film och tv samlat i en enda databas för världens skickligaste regissörer och producenter, och nu är Sverige representerade vid förhandlingsbordet genom medlemmarna i Team Titan MMi/Sweden.
Jakkin Wiss & Seoras Wallace
Team Titan MMi/Sweden & Clann Wallace MMi
info@teamtitan.org